Back to product overview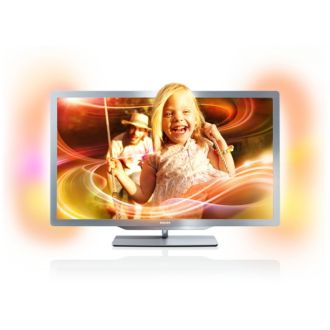 Be part of the action!

7000 series Smart LED TV

47PFL7606H/12

with Ambilight and 3D TV

Experience cinema at home with a Philips 7000 series 119 cm/47" 47PFL7606 3D TV. It combines powerful LED pictures and the immersion of Ambilight to deliver an immersive 3D movie experience. Be assured you will always be part of the action.
Download image
Ambilight Spectra 2-sided intensifies the viewing experience
Add a new dimension to your viewing experience with Ambilight Spectra 2. This patented Philips technology enlarges the screen by projecting a glow of light from 2 sides of the back of the TV screen onto the surrounding wall. Ambilight automatically adjusts the color and brightness of the light to match the TV picture. Thanks to the wall-adaptive function, the color of the light is perfect, regardless of your wall color.
Easy 3D for a truly immersive 3D movie experience
Easy 3D ensures you get long hours of comfort while watching 3D thanks to the flicker free, low ghosting performance. The compatible 3D glasses are light weight and do not require batteries. Enjoy 3D easily at home today!
Full HD TV with Pixel Precise HD for details in action
Pixel Precise HD builds on the award winning Pixel Plus foundation. It brings the high definition picture quality to the next level with 4 trillion colours. With Super Resolution, Pixel Precise HD now brings you the best HD TV picture quality whether you are watching a video from the internet or good quality Blu-ray movies.
Brilliant LED images with incredible contrast
The most advanced LED lighting technology in this Full HD LED TV combines an eye-catching minimalistic design with stunning image quality as well as the lowest power consumption in its category. On top of that, LED lighting technology does not contain any hazardous materials. Thus, with LED backlight you can enjoy low power consumption, high brightness, incredible contrast, sharpness and vibrant colors.
400Hz Perfect Motion Rate (PMR) for superb motion sharpness
400Hz Perfect Motion Rate (PMR) creates extreme motion sharpness for clear and vibrant images in fast action movies. The new Philips PMR standard shows the combined visible effect of the fastest panel refresh rate, HD Natural Motion and unique processing formula, for unprecedented motion sharpness.
Feel the power of 24W RMS and Incredible Surround
Feel the power of the music's beat and the real atmosphere of the movies. The powerful 24W RMS (2x12W RMS) amplifiers create a lifelike sound stage. Incredible Surround allows you to experience total surround with greater depth and width of sound complementary to the rich viewing experience.
A wealth of online apps, videos to rent and catch-up TV
Rent movies directly on your TV from online video stores, watch catch-up TV from your favorite channels and enjoy a rich selection of online apps with Net TV. You can also browse the open internet.
With DLNA, enjoy photos, music and movies on your TV
Share photos, music and movies through DLNA from your smart phone, tablet or computer and enjoy them on the big screen.
Control the TV with your smart phone, tablet or keyboard
Control your TV in the easiest and most convenient way. Just connect a wireless keyboard or use your smart phone or tablet to control your Smart TV.
Find, schedule, record & pause TV
Record live digital TV on a USB connected to your Philips TV or pause content whenever you want to take a break and continue watching whenever you want. Use the Electronic Program Guide to find your favorite programs and easily schedule your preferred recordings. Now you can program your TV viewing around your life.
* Net TV: Visit www.philips.com/smarttv to discover the services offering in your country.
* Parents should monitor their children during 3D viewing and ensure they do not experience any discomfort as mentioned above. Watching 3D is not recommended for children under 6 years of age as their visual system is not fully developed yet.
* The TV supports DVB reception for 'Free to air' broadcast. Specific DVB operators may not be supported. An up to date list can be found in the FAQ section of the Philips support website. For some operators Conditional Access and subscripction are required. Contact your operator for more information.
* Using the integrated digital TV tuner will help to save energy
* 8 days EPG, service not available in all countries
* USB recording only for digital channels covered by the TV IP bases Electronic Programme Guide (country and channel restrictions may apply), recordings may be limited by broadcast copy protection (CI+). An internet connection is required.
* Energy consumption in kWh per year, based on the power consumption of the television operating 4 hours per day for 365 days. The actual energy consumption will depend on how the television is used.
* Using the ZERO power off switch will reduce standby energy consumption to 0
* This television contains lead only in certain parts or components where no technology alternatives exist in accordance with existing exemption clauses under the RoHS Directive.
* USB keyboard & mouse is supported via software update